Really happy with my new PC, arrived this morning, so happy right now that i don't work Fridays =)
This is why i needed a new one..
The obligatory shot of the box. Much bigger than i expected, i had real trouble getting it through the door!
I love that pcs uses palit cards, they look soo good. (yes i know aesthetics don't really matter)
New setup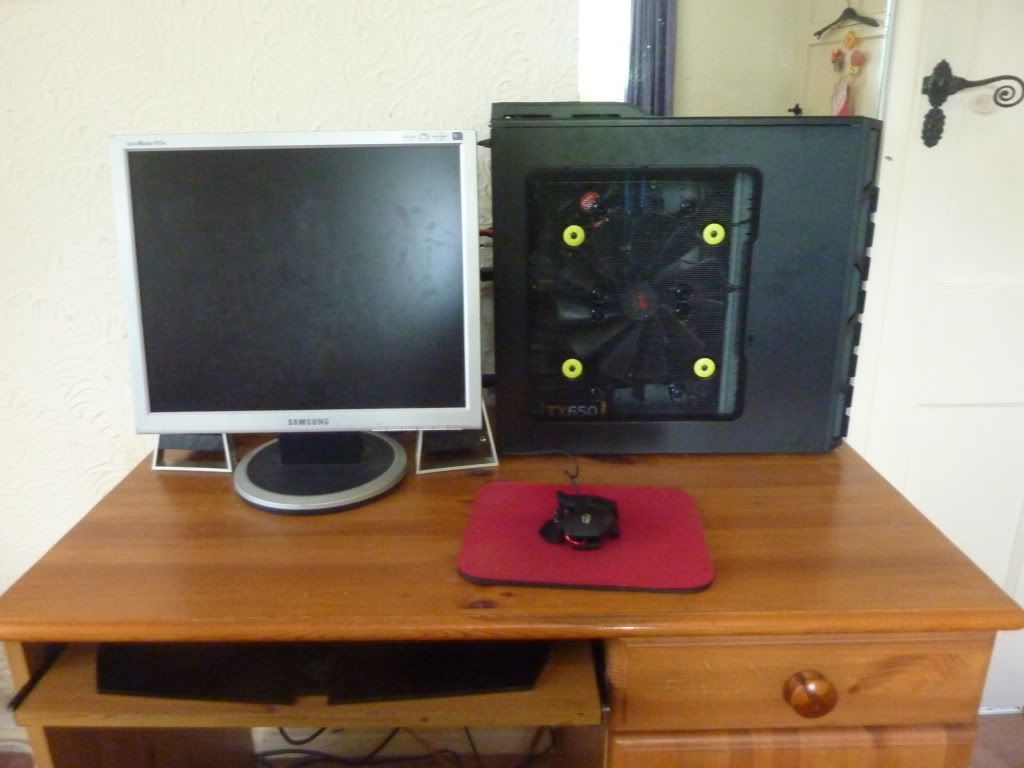 I'm really happy with this, love how easily it does things compared to my last machine. The only thing that annoyed me is that the card reader is halfway down the front and that just looks strange to me.
Two things that are confusing me with this is that the cooler doesn't look like a standard intel cooler (not a complaint), and i was messing around on systemrequirementslab and it said that i have 4GB of video RAM. But its a 1GB card.. dxdiag.exe agrees with it, saying 4065MB, so i don't know why its reading that, any ideas?
And for those who are interested:
Case
PCS MAELSTROM T900 BLACK GAMING CASE
Processor
(CPU) Intel® Core™i5 Quad Core Processor i5-3570K (3.4GHz) 6MB Cache
Motherboard
ASUS® P8Z77-V LX: USB 3.0, SATA 6GBs, ATI®CrossFireX
Memory (RAM)
8GB KINGSTON HYPER-X GENESIS DUAL-DDR3 1600MHz, X.M.P (2 x 4GB KIT)
Graphics Card
1GB NVIDIA GEFORCE GTX 560 Ti - 2 DVI,HDMI,VGA - 3D Vision Ready
Memory
- 1st Hard Disk 1TB WD CAVIAR BLACK WD1002FAEX, SATA 6 Gb/s, 64MB CACHE (7200rpm)
1st DVD/BLU-RAY Drive
24x DUAL LAYER DVD WRITER ±R/±RW/RAM
Memory Card Reader
INTERNAL 52 IN 1 CARD READER (XD, MS, CF, SD, etc) + 1 x USB 2.0 PORT
Power Supply
CORSAIR 650W ENTHUSIAST SERIES™ TX650 V2-80 PLUS® BRONZE (£69)
Processor Cooling
INTEL SOCKET LGA1155 STANDARD CPU COOLER
Sound Card
ONBOARD 6 CHANNEL (5.1) HIGH DEF AUDIO (AS STANDARD)
Network Facilities
10/100/1000 GIGABIT LAN PORT - AS STANDARD ON ALL PCs
USB Options
6 x USB 2.0 PORTS @ BACK PANEL (MIN 2 FRONT PORTS) AS STANDARD
Operating System
Genuine Windows 7 Home Premium 64 Bit - inc DVD & Licence (£79)
Warranty
3 Year Silver Warranty (1 Year Collect & Return, 1 Year Parts, 3 Year Labour) (£5)
Delivery PCS EXTRA-CARE DIAMOND DELIVERY - MON-FRI, PRE-NOON (£9)
Build Time
Standard Build - Approximately 10 to 12 working days
Price
£866.00
Production Dates
Processed Date 26-04-2012
Pre-Production Date 01-05-2012
Build Date 03-05-2012
Test Date 09-05-2012
QC Date 10-05-2012
Awaiting Dispatch Date 10-05-2012
Dispatch Date 10-05-2012
Built By Sanjit Ghosh
Tested By Garnet Heller
QC'd By Aiden Ramsden
Packed By Anthony Cunliffe